The Nigerian market place was first of its kind to have taken place in Gothenburg for the last twenty years, where Nigerians with support from other African countries like the Eritreans, Ghanaians, Cameroonians and Gambians gathered together to present their culture and its values to the people of Gothenburg.
Nigerians living in the western part of Sweden (västra götaland) are from a multicultural background. These cultural values are exhibited through their day to day activities which can be through food they eat, ways of communication, mode of dressing, traditional belief or ways of greeting people. The Nigerian Market Place was a good platform to share some of these cultural values with other cultures or the host community which are interested in a multicultural integration.
Just like in a typical African market scenario, there was an open display of wares like artifacts, beads, African food, artwork and decorative materials for sales at the Nigerian market place. There was also basic teaching on the use of talking drums by the music pedagogue and dancer from Ghana, Papa Theo. Also was a display of West African dance with support beat from Dembo Jatta group from the Gambia.  Part of what to learn from the two day market place was how to tie headgear (Gelé) a popular West African tradition for women to have whenever they are going out. There was also a short drama of how a naming ceremony is normally conducted in the western part of Nigeria. The Eritrean Family Association group from Kortedala was there to teach people how to dance to Eritrean music and brought some Eritrean foods for sale. It was a good start for cultural integration and awareness in Gothenburg with the participation of the following people: African way, Ini design , Yeye Oge fashion, Afrika hjälpen, Prosofor Cameroon, Eritreanska familjen förening I Kortedala and Skandik Afrik.
However, the Nigerian market place if better planned and organized in future with all stakeholders on board, it could record a better success. It has a potential of getting bigger and popular within the Gothenburg municipality.
Here are some of the pictures taken at the venue:
Some of the people that displayed their wares
Handmade pots for food and cover
Handmade beads, neck chains, handmade bangles etc
Display of African dance with talking drum
Eritreans displayed their cultural dance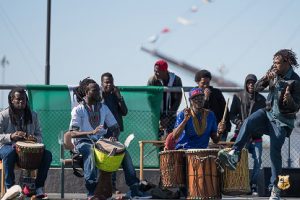 Dembo Jatta group from the Gambia with the Slim Prince
Papa Theo from Ghana teaching the kids African drum and dance
Photograph by:  Nissor Addourazakov
For more stories about Africans living in Sweden, Denmark and Norway,
join us on Facebook and Twitter
Or send mail to us at  info@skandikafrik.com