Our travelling to Uganda was more of a defensive and apprehensive trip, packed with doubt and worries even though we were looking forward to a warm weather as a means of escape from the cold weather of Sweden in December period, fun and visit to historical places.
We arrived at 02:00 am and decided to stay in the airport till 06:00 because of what we term as security concern which we learnt from big news agencies just like any other African countries. Even though they have their challenges as a nation, l must say that there are lots of things l think people should know about the country which some of these big news agencies seems to have ignored.
Uganda is a safe country to be at night. We travelled extensively in the country and were very worried at first but became relaxed over a period of days when we discovered that there was nothing to worry about. The road network connecting the major city was good and the police conducted themselves in an orderly manner throughout the period we moved from west till south, even though you may read on the police checking point sign post ACCIDENT AHEAD, we never came across any accident, although travelling at night may be dangerous because people do not seem to obey the traffic rules and signs.
Uganda is a country with plenty plantations of Bananas generally called Matooke, a staple and general food in Uganda. The beautiful scenes of greens everywhere in Uganda contradict that of celebrated news of AIDS and famine that are generally associated with Ugandans in selected news on screen. Travelling from Kampala to Rukungiri which lies in the south-west part of Uganda, I was surprised by beautiful landscape full of greens and chains of mountains capped with deep, smooth green grass and some little but few trees in uniform patterns.
Although basic infrastructures were not provided in most part of the villages we visited Ugandan people living in the villages seems to have a different meaning to fulfilment and satisfaction in life. They have access to fresh fruits which is visible everywhere like Jackfruits, Pawpaw, Pineapple while fresh milk from Cows is in abundance, in the evening family and friends gather together for a locally brewed drink called Malwa.
Skandik Afrik shares the beauty of the Pearl of African, surrounded by greens, an abundance of fruits, and beautiful landscape in pictures with our readers.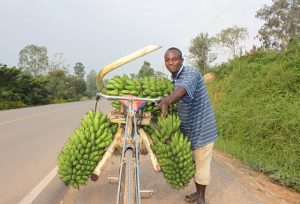 A Ugandan farmer transporting Banana (Matooke) to the market.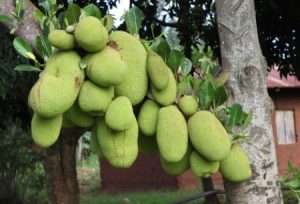 Jackfruit, a fruit visible everywhere in Uganda.
Chains of mountains capped with deep, smooth green grass in Rukungiri (Western Uganda).