The 6th edition of Celebrate Africa Award in Denmark came with funfair and appreciation of African descendants contribution to the Danish society. The theme of this year was "African Dream" in reference to the virtue and quality set by the adored late South African leader, Nelson Mandela.
Celebrate Africa is a platform in Denmark that facilitate integration among Africans and Danes, where people can be inspired through the contribution of role models from the African and Danish community. The award is given to appreciate individuals or organisations for their contribution through their work to promote Africa as a continent, contribute to the economy of Denmark and inspire others in the following areas: Entrepreneur/Business, Sport, Academic, Art and Craft and Community work. The award also emphasized and focuses more on the positive values of the African in Denmark and gears others into acting rather than dreaming.
The list of selected contestants and winners of each category award is presented below:
The Creative Artist award was contested among OKANA, clothing brand (Central East-African region), NiNi Brothers, dancers (Burundi) and Lisley Lichele Nduta, makeup artist (Kenya).  This category was won by NiNi Brothers. John Nini and Eddy Nini are known for their dancing skills and expression from Africa on TV2 program of "Denmark got Talent 2015"
Ahlam Chemlali, Human rights activist (Morocco) won the category of Young Achiever. Among the contestants in this category were Precila Birungi Kristiansen (Uganda) and Dennis Twum, Children's Rights Advocate (Ghana).
The Sport person was contested among Lebogand Phiri, football player (South African), Bryan Mathew Odour, handball player (Kenya) and Poine Sisto, football player (Southern Sudanese).  Lebogand Phiri won the sport person. He is a South African international footballer and is currently playing for Danish club Brøndby IF in a midfield position.
African Business/Project was won by Lars Papis, founder of Bluephone (Senegalese/Danish). This category was contested with him by Husi Mugwaneza , owner of HM food (Rwanda) and Yusufa Sey, Co-Founder  and CEO Athgene (Gambia).
Skyjuice Production won the African promoter among other promoters which were AVH Productions and Shelby Production.
The Upcoming artist award was contested among Justin Swayzy,  ZiE, Sophie Ziedoy and Anton Eger. Sophie  Zeidoy (Eritrean/Danish) and Ida Ambrose (Gambian/Danish) . The latter won the award in this category. She has performed for several years on the Danish music scene.
The African Artist/Musician was contested among Miriam Mandipira (Zimbabwe), Wafande (Tanzania/Denmark) and Barbara Moleko (South African/ Danish). Barbara won under this category.
Said Abdirahnman Hussein (Somalia) won the community leader category.  Among the contestants in this category were Couleur Café and Touch of Africa.
Short video teaser to the award
Celebrate Africa Award recepients:
Lebogand Phiri
Ida Ambrose
Skyluice Promotion crew
NiNi Brothers
At the reception and red carpet: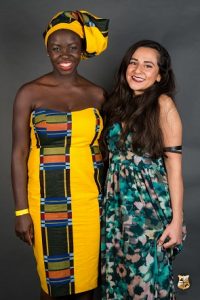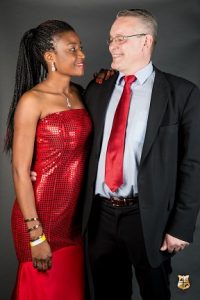 Photograph by:  Naomi Images
For more stories about Africans living in Sweden, Denmark and Norway,
join us on Facebook and Twitter
Or send mail to us at  info@skandikafrik.com